seeing all of the news & photos of japan is so unbelievable. i can't even begin to understand what it must be like to go through what they are going through right now. it's hard for me to know what to even think, because it is so far away & it feels so surreal... however, i do know that there is something great that i can do & that is to pray! we all need to come together to lift up those who are hopeless, scared, alone, hungry, cold... so, please take time & pray for the pain & loss that so many are facing right now... because even in the midst of this pain, people need to know that there is hope. & it only comes from being in the presence of God's love...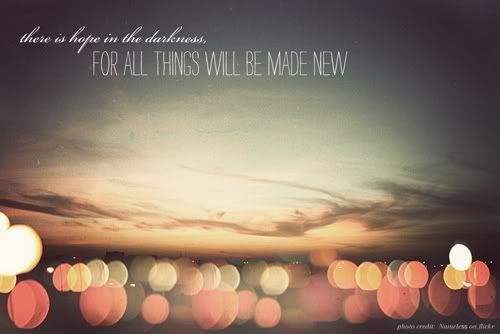 i thought i would share this photo that i spotted on
hello, friend
.
so pretty & such inspiring words for this current time.
{Revelation 21:1-5}
Then I saw "a new heaven and a new earth," for the first heaven & earth had passed away, & there was no longer any sea. I saw the Holy City, the new Jerusalem, coming down out of heaven from God, prepared as a bride beautifully dressed for her husband. & I heard a loud voice from the throne saying, "Look! God's dwelling place is now among the people, & he will dwell with them. They will be his people, & God himself will be with them and be their God. 'He will wipe every tear from their eyes. There will be no more death or mourning or crying or pain, for the old order of things has passed away." He who was seated on the throne said, "I am making everything new!" Then he said, "Write this down, for these words are trustworthy & true."
that says it all! :)